720p Indoor Funkkamera P2P Netzwerk Cloud IP-Kamera


Wifi Wireless Home HD P2P IP Kamera Beschreibung:
Wifi IP-Kamera enthält einen eingebauten Lautsprecher und Mikrofon. Ob auf Ihrem Computer oder Smartphone, wird alles, was Sie sagen oder hören klar und sofort kommen. Die WLAN-IP-Kamera hat Motion Detection Funktion "Warnungen". Mit dieser Funktion auf die IP-Kamera kann selbst kleinste Bewegungen verfolgen.
Und senden Sie Sie per e-Mail. Der Nachtsicht-Technologie der Ip Kamera erlaubt Ihnen auch, ein cystal klares Bild zu bekommen, auch wenn es dunkel ist.

(1) Support für mobile Ansicht, Alarm Aufzeichnungsabbild, zwei-Wege-Gespräche, Fernbedienung und Audio-monitor
(2) Unterstützung PTZ-Steuerung: horizontale 355℃, vertikale 90℃
(3) Support für Multi-Sprache, automatische Identifikation der Sprache nach mobile Betriebssystem
(4) Unterstützung ONVIF-Protokoll
(5) Support-IR-Nachtsicht: niedrige Beleuchtung 0 LUX, 11pcs LED-Leuchten, IR Reichweite: 25meters
(6) Support-Bewegungserkennung: Event und Alarm-Informationen per e-Mail oder FTP hochladen
(7) Unterstützung Codierung mit Funk-Alarm-Sensoren, wie PIR-Melder, Tür/Fenster-Magnetkontakte, Rauchmelder etc.
(8) Support für CMS, max für 64ch
(9) Unterstützung Mehrstufiger Passwortschutz, hohe Sicherheit
(10) TF-Karte max unterstützt 64 G
(11) Installation Weg: Wand Montage, Hebezeuge Montage
Micro SD-Card Slot Wireless IP-Kamera Spezifikation
System

CPU

Industrial-grade embedded microcontroller Hi3518E/GM3518S

Operating system

Embedded LINUX OS

Soft system

Android IPhone Windows

Video

Image sensor

1.0MP CMOS

Video Compression Format

H.264

Video Signal System

PAL&NTFS for optional

Video Resolution

720P:1280*720 960P:1280*960

Playback Image Quality

720P/960: 25fps or 30fps

Motion Detection

Support

Minimum illumination

OLUS/F1.2

IR

Supprt 5th generation high light IR

Video call

Support high-fidelity speakers

Screenshots function

Support

Audio

Compression

AMR

Audio Output

Built-in microphone

Audio Input

Built-in speakers

Recording

Recording Mode

Manual recording, shedule recording, alarm recording

Video Storage

Micro SD/TF

Alarm

Alarm triggered

Email Speakers alarm,Alarm recording,Capture&Email

External Alarm

Support all kind external wireless alarm linkage 433MHZ 315MHZ

Alarm Hint

Speakers alarm,Alarm recording,Capture&Email, mobile phone ringtone

Network Conection

RJ45

1 RJ45 Interface, 10/100 Self-adaption

WIFI

Support, 802.11 b/g/n

P2P

Support, unique P2P number, can work in LAN

Compatibilty

Protocol

ONVIF

Safety

Password Protection

Multilevel encryption, seniority password protection

Others

Power Supply

DC 5V 2A

PTZ Control

Built-in horizontal and vertical control motor

Power Consumption

3W

Working Temps

0℃- + 55℃

Working Humidity

10%-90%

Size

130*100*123 mm with WIFI antenna

weight

800g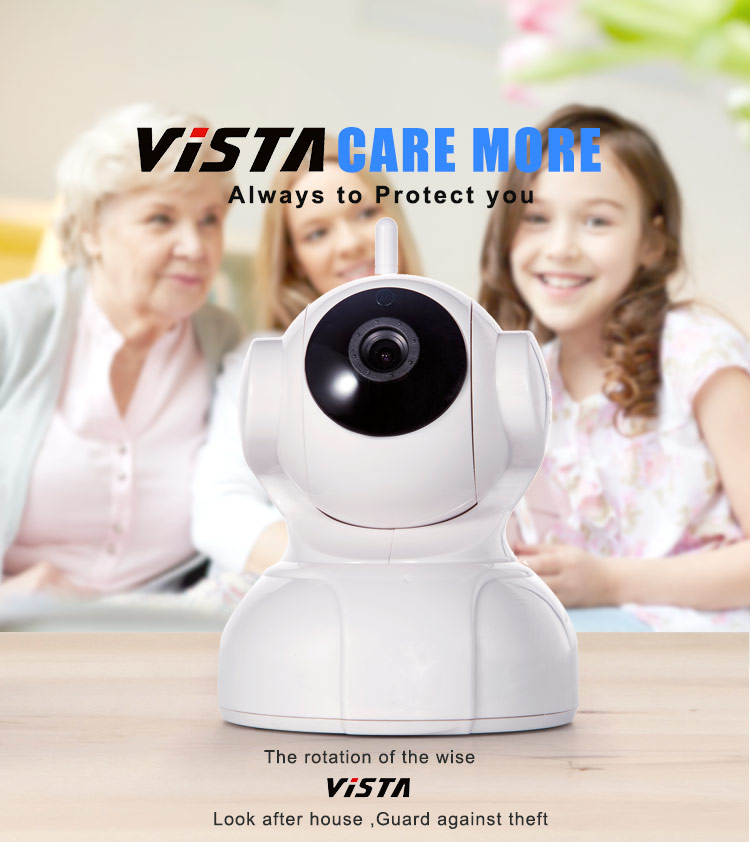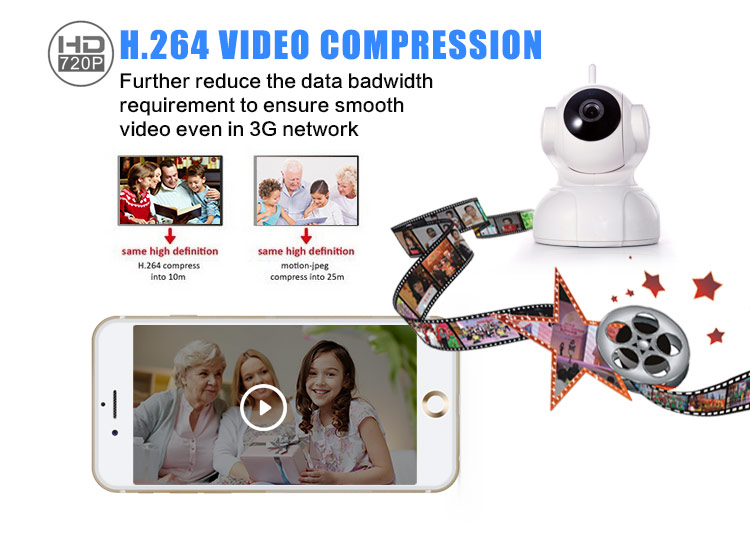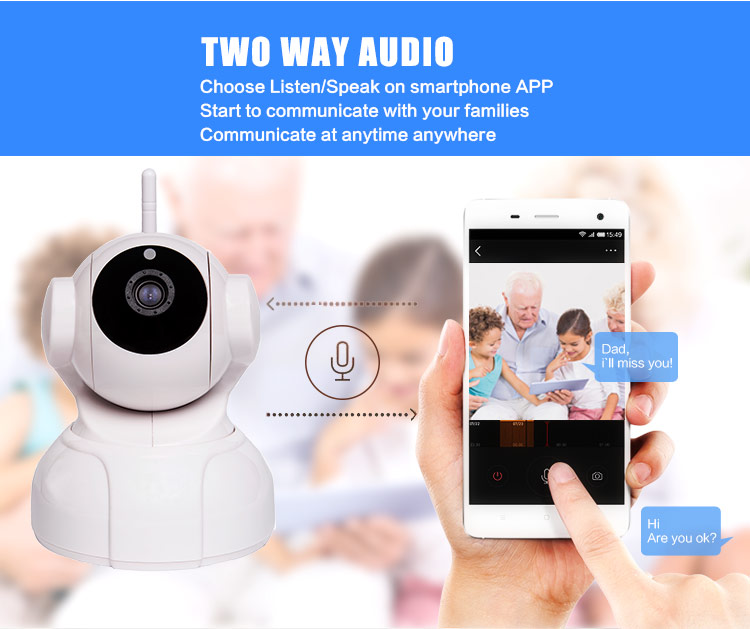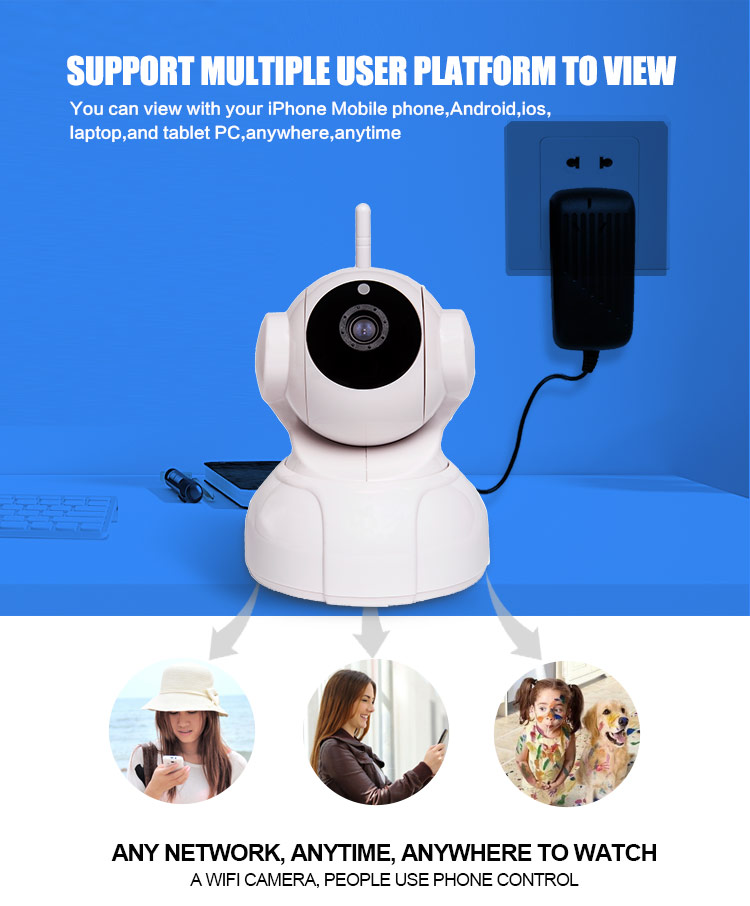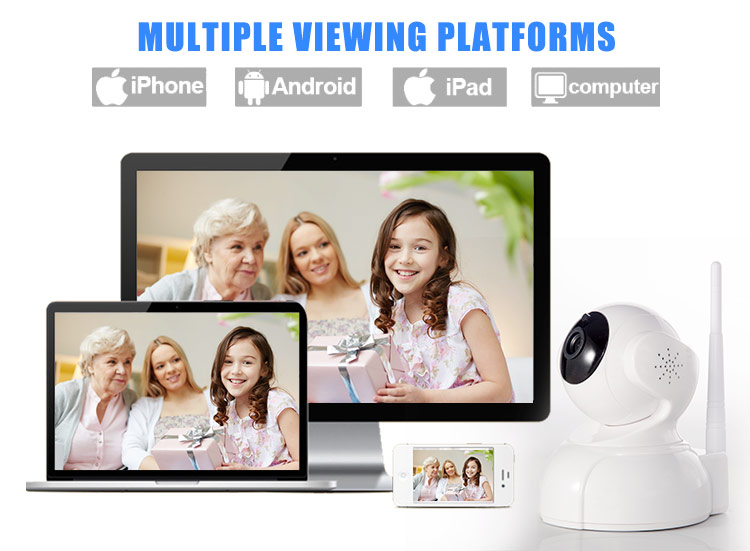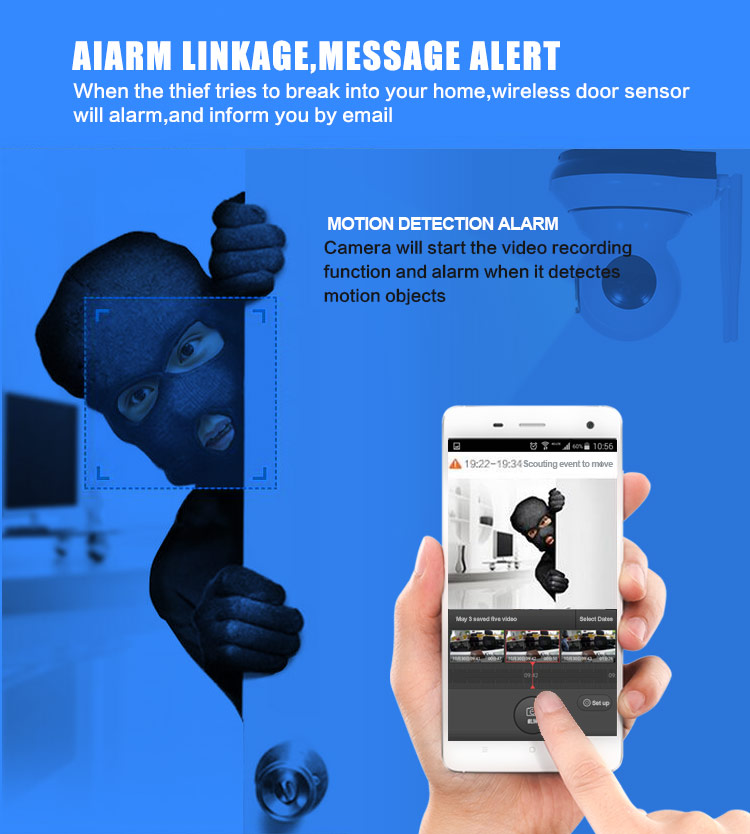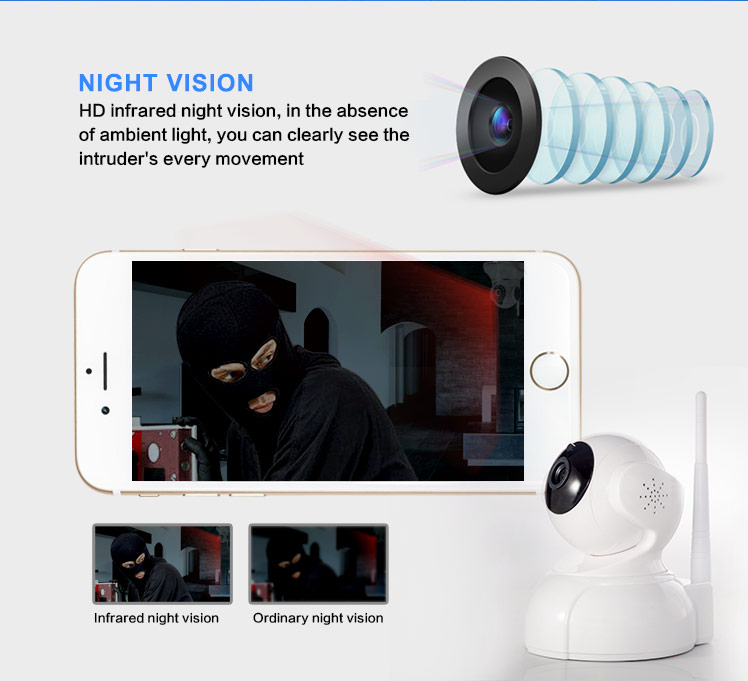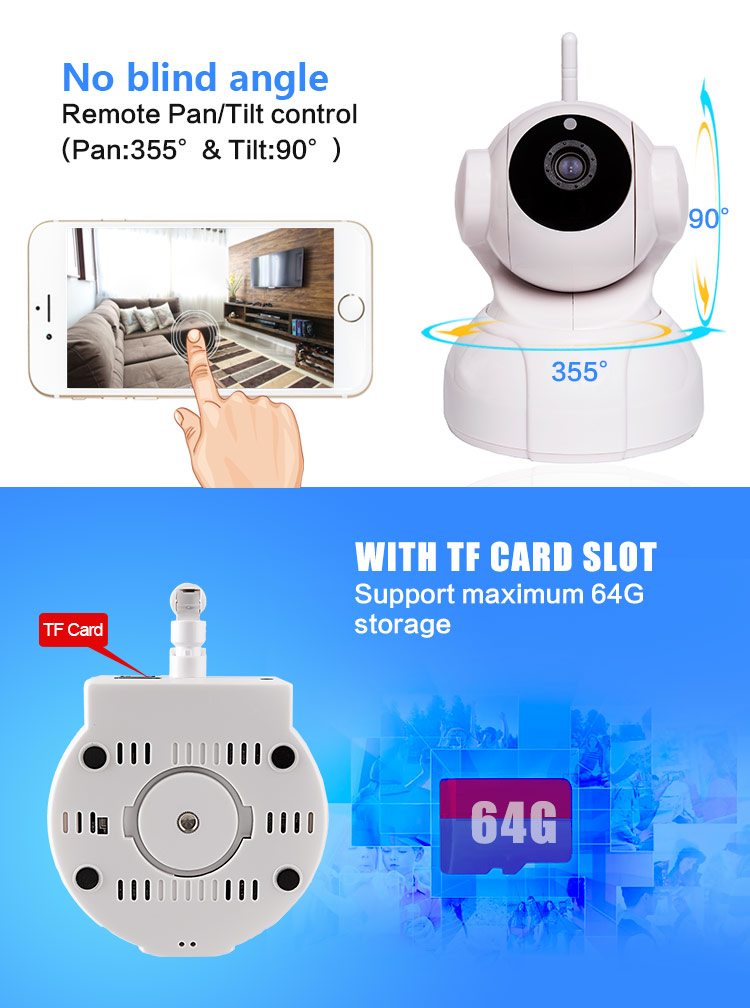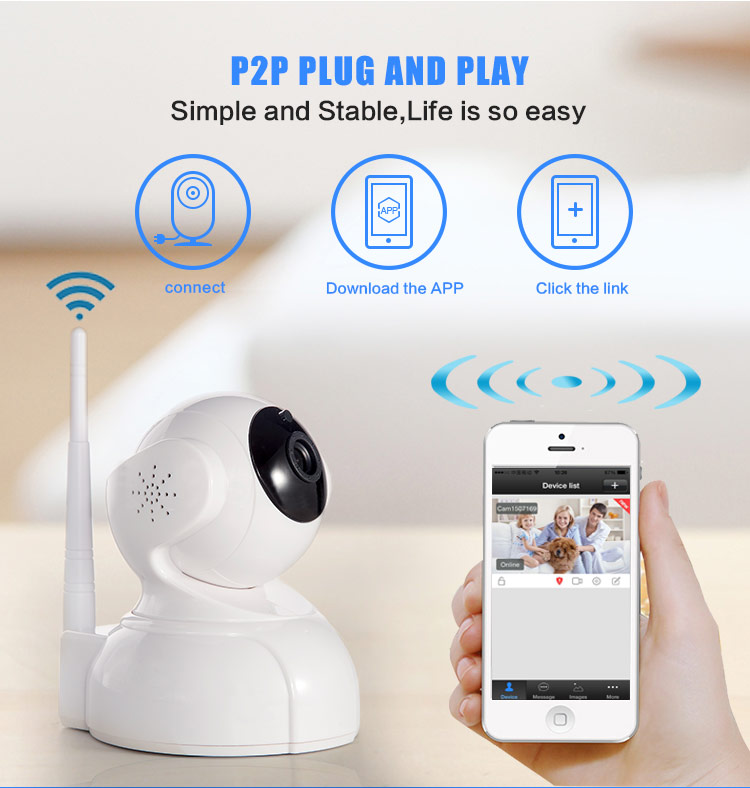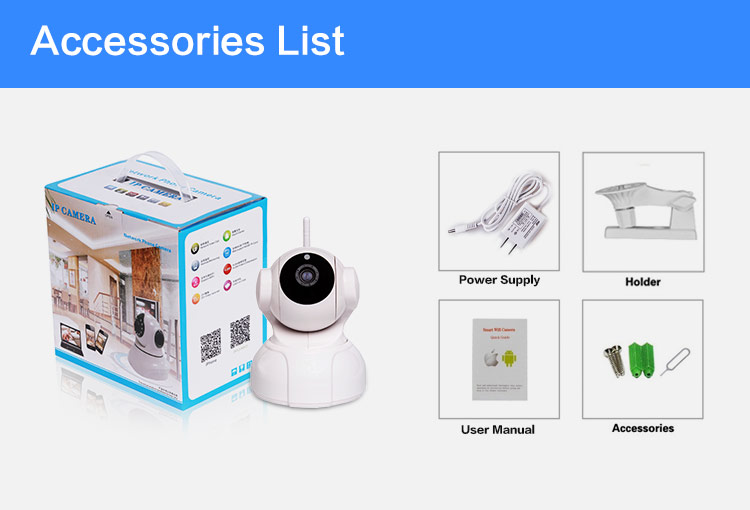 Informationen zum Unternehmen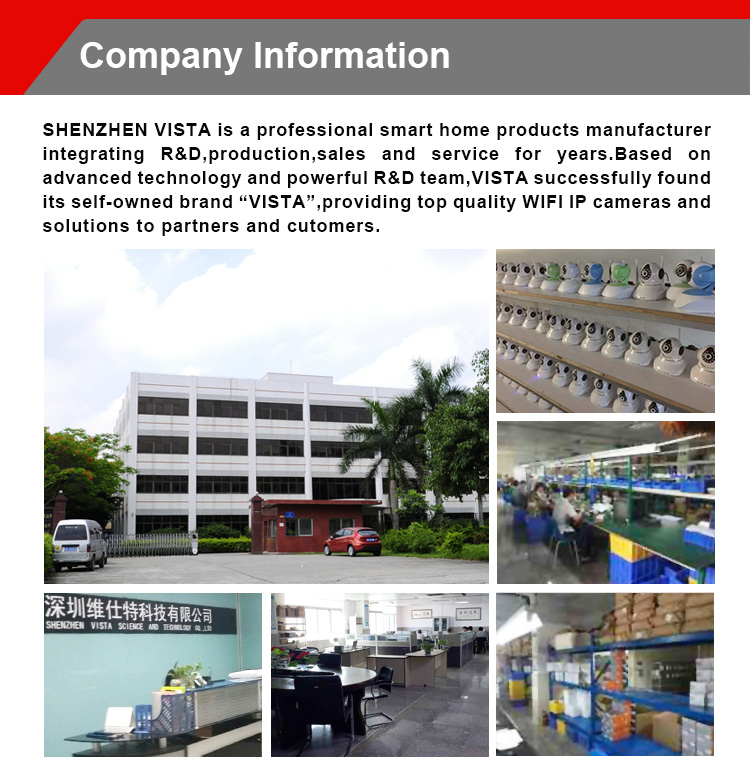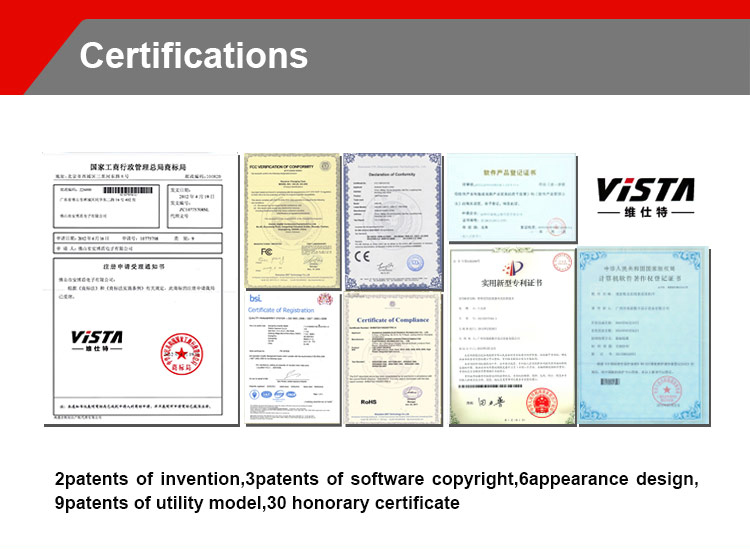 Frage: wie können wir eine Bestellung machen?
A: können Sie uns-Anfrage online oder per e-Mail, wir senden Ihnen Angebot und bestätigen Bestellung, einmal Eingang Ihrer Zahlung nach unserem PI, wir liefern Ihnen schnell und sagen Sie die Tracking-Nummer.
Q: Was ist die Zahlungsmethode?
A: Wir akzeptieren Zahlungsbedingungen der T/T, L/C, Western Union, VISA, Mastercard, Treuhandservice, Paypal und So weiter. Optional durch Kunden.
Q.May ich das Paket anpassen und unser Logo auf Verpackung und Produkte?
Versendung, wir wir bieten kundenspezifische Verpackung und Logo mit verschiedenen Materialien.
Q. Was ist die Garantie für Ihre Produkte?
A: Wir versprechen Ihnen zwei Jahre Garantie für alle unsere Produkte.
Q. Was ist das MOQ?
A: unser MOQ ist bis zu 5 Pcs, doch Beispielauftrag willkommen.
Q: kann ich habe Proben, um die Qualität zu testen?
Versendung, können Sie Probe zum Testen der Qualität vor Quantität Auftrag kaufen.